Perna Studios is proud to announce our second trading card set titled Spellcasters. The set will spotlight different types of magic (White Magic, Black Magic, Chaos Magic, Voodoo/Shamanism and Fantasy/Mythology/Fairy Tale). We are starting off with a free give-away convention promo with art by artist Meghan Hetrick. There will be an announcement in September in regards to promo cards P2 & P3.
The base set will consist of all new artwork by some of the best sketch card artists in the business. The quality seen in our first Classic Mythology trading card set will continue into our Spellcasters set.
Promo P1 is drawn by artist

Meghan Hetrick
[link]
and will be given away at Tony Perna's table from August 23rd-26th 2012 at the Fan Expo Canada convention in Toronto
[link]
We have a limited quantity of Spellcasters P1 Promos left over from Fan Expo to give to people that could not attend (for the cost of postage). We can accept Paypal payments for postage costs - $1.50 for the US/Canada or $2.50 for overseas. Please send Paypal payments to tmontana@sympatico.ca as a GIFT or add an additional 35 cents to payment. Paypal always takes a fee for payments if they aren't sent as a gift. Please type your mailing address in the note section with your Paypal payment as well.

Only one promo per household/person - Offer EXPIRES September 17th 2012
www.meghanhetrick.com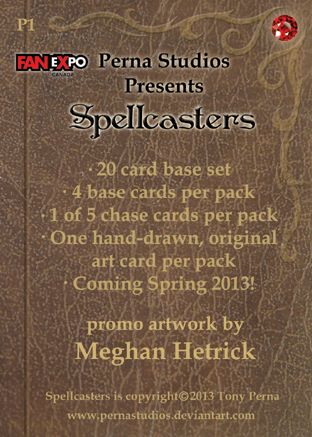 These promo cards will be very limited.
Check back here often for more updates on set info, promo's and the artists involved.